Background
Clayesmore School is a fee-paying school with circa 720 pupils from nursery through to senior school. Boarders account for 40% of pupils. The main campus occupies 62 acres, on which there are over 40 individual buildings, including teaching facilities, sports facilities with swimming pool, a theatre and accommodation. The Main House is Grade II listed and there are associated development restrictions. The overall campus fuel consumption was circa 4,000,000kWh in 2015. In order to reduce heating costs (the school was heated by many small oil and LPG boilers) and to improve security of supply the school ran a competitive tender process with the objective of installing a District Heating (DH) system, fuelled primarily by biomass.
Clayesmore Schools Main House
The Clearpower Solution
Clearpower were awarded the contract in early 2016. In response to the clients specification Clearpower installed 2 no. Herz Biofire 499kW wood chip boilers + 1 no. 100m3 wood chip silo. The wood chip silo is equipped with a fast loading trough and auger system, which can deliver 100-120m3 of chip per hour. The wood chip boilers are coupled with 30,000L of thermal store. To assist in meeting peak heat loads and to provide backup Clearpower installed 4 no. 560kW Viessmann Vitoplex oil boilers. Within the project scope, a new architecturally designed plant room was constructed to house this equipment. From there, heat is delivered to a campus wide DH network via circa 2.5km of buried preinsulated steel pipework to circa 40 campus buildings. Heat is transferred into each building via a Heat Interface Unit (HIU) which consists of a Pressure Independent Control Valve with temperature sensor, ultrasonic heat meter, plate heat exchanger, strainer, bypass and isolation valves.
Benefits
This Clearpower installation will reduce heating costs, improve security of fuel supply and also address historical problems with the heating systems in several buildings. The installation is supported by the Renewable Heat Incentive (RHI), which means it will benefit from guaranteed, payments for all the eligible renewable heat it generates over 20 years. The replacement of circa 40 no. small boilers with 6 no. large boilers reduces the maintenance burden on site and flue emissions are now controlled at one central location. Finally, the pupils of the school can learn about renewable energy and general engineering by observing the wood chip plant and DH network in operation.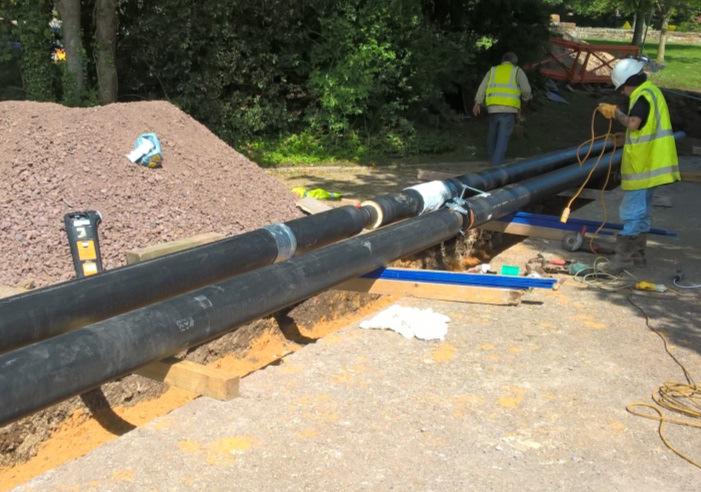 DN150 steel DH pipe installation at Clayesmore School