Background
2 Upperton Road, Leicester is just 10 minutes' walk from De Montfort University campus and 25 minutes' walk to the University of Leicester. In 2012, Leicester City Council directed that a planning application be submitted for the demolition, extension or alteration of the old buildings at 2 Upperton Road. It was a condition of planning that the new buildings source 14% of their total energy requirement from renewable sources. Some buildings were demolished and new premium student accommodation constructed in its place. Other buildings were renovated.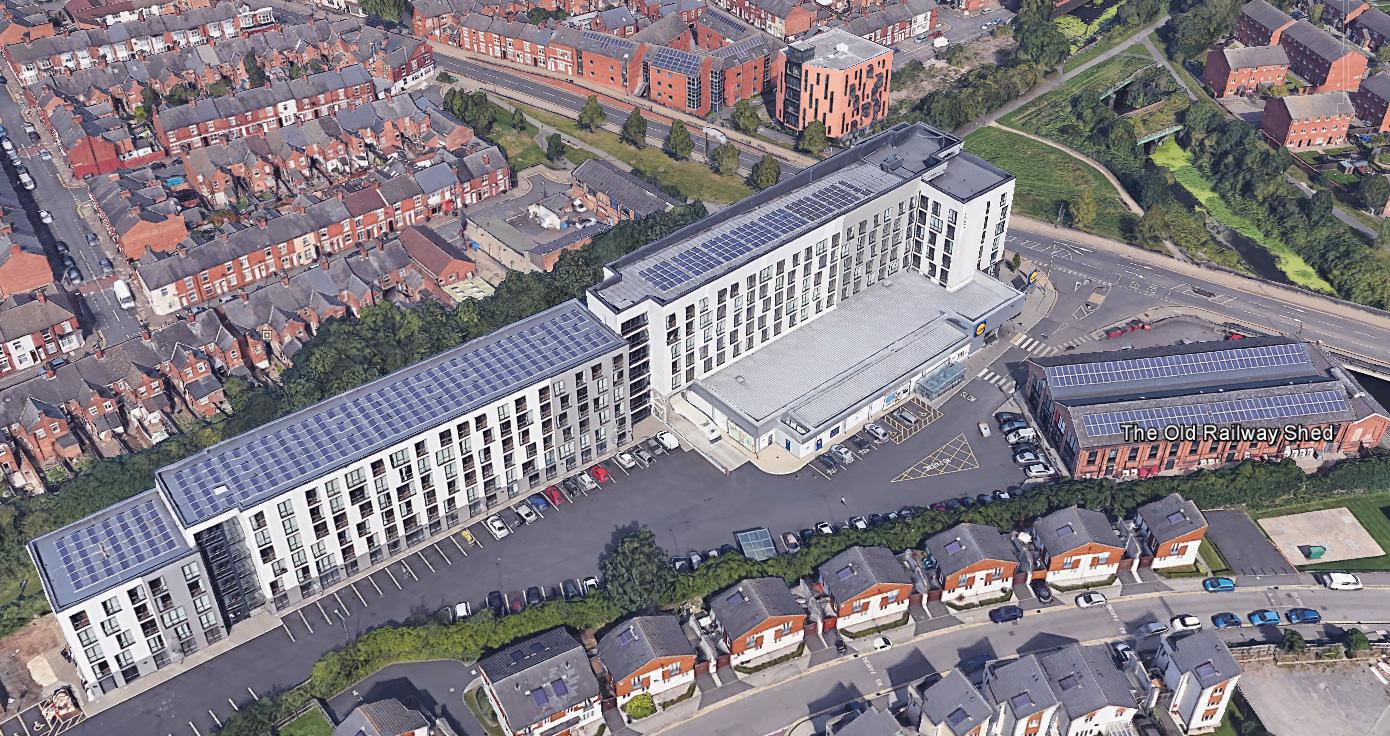 Clearpower Solution
Installation of a fully funded system for Jamie Lewis Residential split over two buildings:
A 55kWp flat roof system on a new build student accommodation block. The system comprised of 220 no. 250W polycrystalline solar modules (Tier 1 Q. Pro), connected to 5 no. inverters (1 no. IBC 10000TL, 2 no. 20000TL) and mounted using the IBC Aerofix system.
A 41kWp system on a pitched slate roof of a renovated Victorian railway building. The building was converted into a communal gym, cinema and site office accommodation. The system comprised of 164 no.250W polycrystalline solar modules (Tier 1 Q. Pro), connected to 1 no. inverter (32000m Solarmax) and mounted using the IBC TopFix 200 mounting system and a specialist solar slate flashing.
O'Hanlon Herbs have also entered into a contract with Clearpower for the system maintenance and supply of wood fuel from Clearpower's local depot. Monthly maintenance services are provided by Clearpower, during which the boiler is thoroughly cleaned and parameters are adjusted to ensure boiler operates at maximum efficiency.
Benefits
Meets the planning requirement of having 14% of its total energy from a renewable source
Fully funded with no capital cost to the client
Long term operational savings from a fuel free sustainable source
Availing of the Feed-in Tariff (FiT), providing a separate income stream
Significant reduction in the buildings carbon footprint