Clearpower hosts visit of An Taoiseach and Ministers to T&A Byrne Renewables and Monart Destination Spa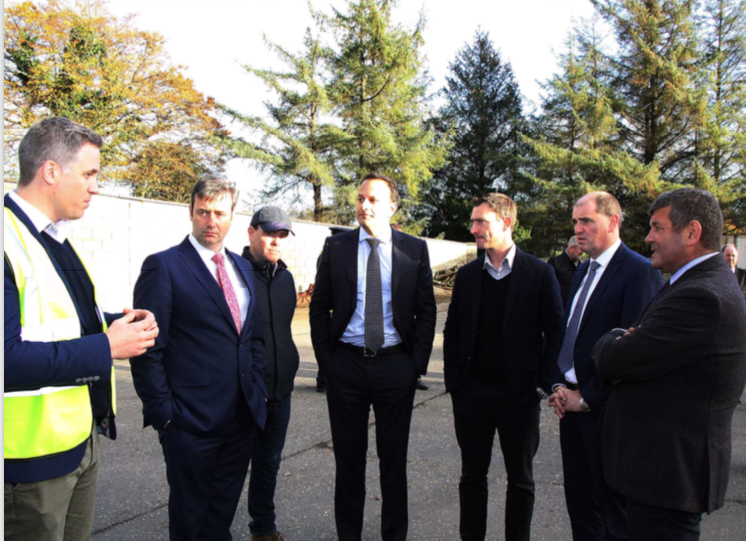 Tom Sheehy, sales manager, Clearpower; Minister Michael D'Arcy TD; Ted Byrne, owner, T & A Byrne Renewables; An Taoiseach Leo Varadkar TD, Eric Bolton, project manager, Clearpower; Minister Paul Kehoe TD, Minister Paul Kehoe TD, Minister Andrew Doyle TD;
Tom Sheehy, sales manager for Clearpower, played host to a very high-powered political visit to T&A Byrne Renewables at Clonroche and the Monart Destination Spa in Enniscorthy on Sunday 5th November 2017. An Taoiseach, Mr Leo Varadkar TD and Mr Paul Kehoe, TD, Minister of Defence were joined by Mr Michael D'Arcy, TD, the junior minister for Finance and Mr Andrew Doyle, TD, the junior minister for Agriculture, on a tour of both premises.
The Taoiseach and his ministers wanted to see first-hand the contribution a regional processing hub of this scale makes to the local economy, as well as hearing about the many benefits of displacing imported fossil fuel, reducing greenhouse gas emissions and mobilising Ireland's forestry resources.
Clearpower stores significant volumes of timber at Byrne's for processing, where it remains to season and dry before being chipped. The depot produces around 15,000 tonnes of chip annually. Ted and Aidan Byrne Renewables manage the storage, handling, chipping and haulage of the material which services between 15 and 20 Clearpower customers, including the 5-star Monart Destination Spa in nearby Enniscorthy. The Clearpower Forest to Heat solution provides heat to the Spa, which is now among the Top 3 Spa destinations in the world according to the very influential Conde Nast Traveller magazine.
T&A Byrne diversified into wood energy when first partnering with Clearpower in 2005. Logs are sourced and delivered on a pre-planned basis several months in advance and systematically stacked, monitored and managed for open-air drying.
Tom Sheehy thanked the Ministers for coming and with the Byrne family, he took them on a tour of the facility. Tom said, "It was a very positive visit for all involved. We were able to demonstrate existing industry infrastructure while illustrating the potential opportunity to have a thriving native energy industry."
Following the tour, Tom accompanied the Taoiseach and Ministers on a tour to Monart Spa to see the Clearpower woodchip boiler in operation. Tom continued, "The visit to Monart was of great value as our political guests had now a complete understanding of the process. It was great to be able to show them that a world-famous spa resort like Monart is using our award-winning Forest to Heat Biomass system."
Established in 2002, Clearpower is a multi-disciplinary renewable energy company operating in Ireland and Northern Ireland. It won Overall Product of the Year at the SEAI Energy Show in April 2017 for its Forest to Heat Biomass system in addition to the Best Services Provider Award.
Clearpower's other hospitality clients are Kelly's Hotel, Ferrycarrig Hotel, Mount Wolseley Hotel, Amber Springs Hotel and Spa and Ashdown Park Hotel. Other clients include IKEA, UCD, EPA, the HSE, Teagasc and the OPW.
Main Image: l/r Tom Sheehy, sales manager, Clearpower; Mark Browne, manager, Monart Spa,, Liam Anthony Griffin and Michael Griffin, proprietors, Monart Spa; Minister Andrew Doyle TD; Minister Paul Kehoe TD, An Taoiseach Leo Varadkar TD, Ted Byrne, owner, T & A Byrne Renewables, Eric Bolton, project manager, Clearpower; Minister Michael D'Arcy TD and Aidan Byrne, owner, T & A Byrne Renewables