The French Biomass Industry
In our inaugural blog post, Jimmy Chevalier, gives us a rundown on the French biomass industry. Jimmy is an engineering intern with us for the summer from Polytech Nantes, where he is studying for a master's degree in energy management by apprenticeship. His brief introduction is a useful yardstick for us as we patiently await the Support Scheme for Renewable Heat.
France has the 3rd highest afforested area in Europe, behind Sweden and Finland. About 30% of French territory is covered with forests.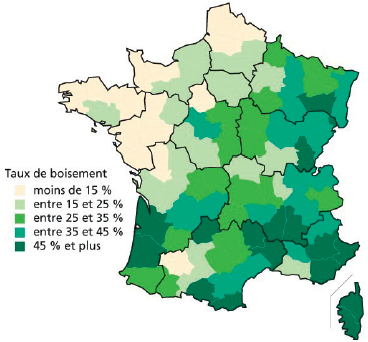 French afforestation rates
It's also the largest producer in the EU of cereals, sugar, protein and oil crops, potatoes, flax and hemp. About 50% of the French territory is agricultural land, which equates to 16% of European agricultural land. Animal production accounts for 43% of the French total agricultural products. That is 25.7 billion euro, mainly in milk (8.9 billion), beef (8 billion), pork (3.2 billion) and poultry (3.4 billion) sectors.
During the 1960s and 70s, energy demand was linked to economic growth. But since the "oil shocks" of the 1970s, France has developed a more sophisticated and strategic energy policy. Nowadays French energy policy aims to restrain their energy consumption.
Focussing on biomass in particular, they have launched one after the other the "Plan Bois Energie et Developpement Local" (1994-2000), the "Programme Bois Energy ADEME" (2000-2009) and the successful "Fonds Chaleur" since 2009. All of these programs have been implemented with the aim of increasing the part of biomass in France, with the "Fonds Chaleur" also supporting heat pumps, solar thermal, heat recovery and district heating. The "Fonds Chaleur" has permitted France to install more than 4,000 biomass plants during 2009-2016. It's a capital grant which depends on the boiler's power and on the annual production. To be eligible for this grant, your boiler must produce at least 1200 MWh/year. This grant is calculated on a 20 years basis.

Grant table with the annual consumption on left, and the grant in €/MWh on right.
For example, if you install a biomass boiler which produces 5,000 MWh/year, you will be helped by a grant of €728,000 [(3000 x €8.2 x 20 years) + (2000 x €5.9 x 20 years)]. It will be paid half at the commissioning stage, and the second half 24 months later after presentation of the 2 first annual balances.
France has more than 6,000 biomass boilers installed (of more 50kW), with an annual wood consumption of 34,400 GWh. The wood biomass sector represents 20,000 jobs, with about 8,000 in the supply and distribution of wood chip and wood pellet, as much in the material fabrication and 4,000 in the selling of specialised equipment.
However, the biomass industry in France has many challenges to face. Segolene Royal, the last Minister of Ecology, Sustainable Development and Energy said in 2014 that the wood sector must:
Preserve air quality by reducing the fine particles emissions.
The forest owners must be made sensitive to the value of their property and encourage them to use their natural resources.
Limit wasting of resources.
With high levels of forestry and a good track record of government support France is well placed to address these challenges and to continue to provide stability for the biomass energy sector.